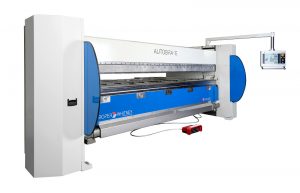 Roper Whitney introduces the Autobrake 1212, which provides accuracy and repeatability when forming 12-gauge mill steel and 14-gauge stainless steel. It features the rotating Kombi beam, which expands the machine's folding capabilities to produce straight to box and pan bending in just 11 seconds. The box tooling is 6.3-inches in height, precision ground and laser hardened to 60. Pieces are also laser etched with the length of the tool for easy box set up.
Optional left-hand or right-hand back gauge extension provides superior material positioning. Maximum 12-foot back gauge travels in less than three seconds and is provided by the six-stage design combining high speed with compact space requirements.
The Autobrake 1212 offers the following benefits:
Reduced labor costs
Improved part accuracy
Minimized tool changes
The Synergy control system offers many features to the operator such as multiple methods of programming – from simple line-by-line to draw-to-auto program. It's network capabilities allow for multiple integrations, such as; Konnect, Konstruct, Konstruct Mobile, and overall shop management through linking multiple machines.
The Autobrake design is a plate and weldment steel construction, delivering performance and features in a simplified, rigid design. End housings are a plate-type construction bringing drive components close together for improved stiffness and performance. The design is constructed so that the actuating mechanisms are secured in rigid mounds of the housings allowing for easy maintenance.
For more information, visit www.roperwhitney.com.