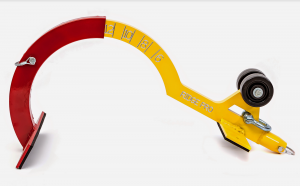 The RIDGEPRO is a versatile and adjustable roof anchor that can be connected to the peak before stepping onto a steep-slope roof, allowing a safe transition on and off ladders on roofs with pitches ranging from 6/12 to 12/12. The innovative arch straddles ridge vents, and the adjustable, pitch-specific settings are designed to maximize contact between the RIDGEPRO and the roof surface, offering faster access to the peak than standard rope-and-harness techniques, according to the manufacturer.
The product offers integrated rope-and-harness connection capabilities, is easy to assemble and install, and can be anchored for extended-access roofing requirements. Constructed from solid, aircraft-grade aluminum, it exceeds industry standard of 5,000-pound tensile strength test when anchored.
The RIDGEPRO features an etched pitch grid that allows the user to customize the setting for pitches ranging from 6/12 to 12/12 and four pre-drilled holes in its cross members for anchoring capabilities.
Using its integrated wheels, the user can push the RIDGEPRO to the peak of the roof with an extension pole, grip it to the ridge, and secure a lanyard to a personal fall arrest system before stepping onto the roof. It also helps make accessing the ladder more safe and secure when leaving the roof.
For more information and a demonstration video, visit www.theridgepro.com.