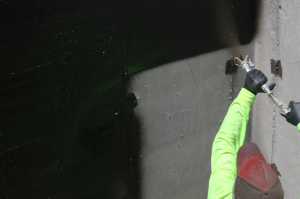 COLPHENE LM BARR, spray-grade silyl terminated polyether (STPE) waterproofing membrane, is now available from SOPREMA. Ideal for use in positive-side waterproofing, foundation waterproofing and a variety of above-grade, horizontal waterproofing applications, this one-component, liquid-applied, moisture-curing elastomeric product can be applied in both vertical and horizontal applications quickly and easily with very minimal prep work.
COLPHENE LM BARR's hybrid polyether composition combines the most desired features of multiple proven chemistries to deliver a broad range of desirable performance properties. It provides persistent adhesion to a wide range of materials—even "green" concrete—while demonstrating extremely high elongation properties. As a result, COLPHENE LM BARR forms tough, elastic seals capable of withstanding extreme temperatures, building movement and moisture without cracking or softening. This STPE product is also environmentally friendly with very low VOC content, cures quickly even at low temperatures.
For more information, visit www.soprema.us.