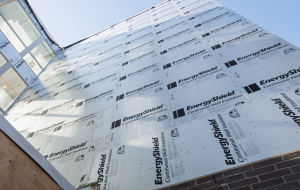 Atlas EnergyShield Pro is a rigid insulation designed for commercial wall assemblies. With thousands of NFPA 285 approved assemblies, EnergyShield Pro can be used in a variety of wall configurations, according to the manufacturer. In addition, the product offers a high R-value and meets rigorous testing requirements for use as a weather-resistant barrier (WRB) and as an air barrier.
Available with foil or coated glass facers, EnergyShield Pro products offer options for vapor closed or vapor open designs. In addition, foil faced EnergyShield Pro is suitable for both exterior and interior exposed use. Glass-faced EnergyShield CGF Pro includes a dark gray facer on one side for open rain-screen designs. EnergyShield PlyPro offers a fire-treated plywood surface to make cladding fastening quick and easy. Choose the option that enhances the productivity on your project by saving material and labor.
For more information, visit www.atlasrwi.com.